The M1-D-V is our best selling Mobile PTZ for all Vehicle Mounted PTZ applications.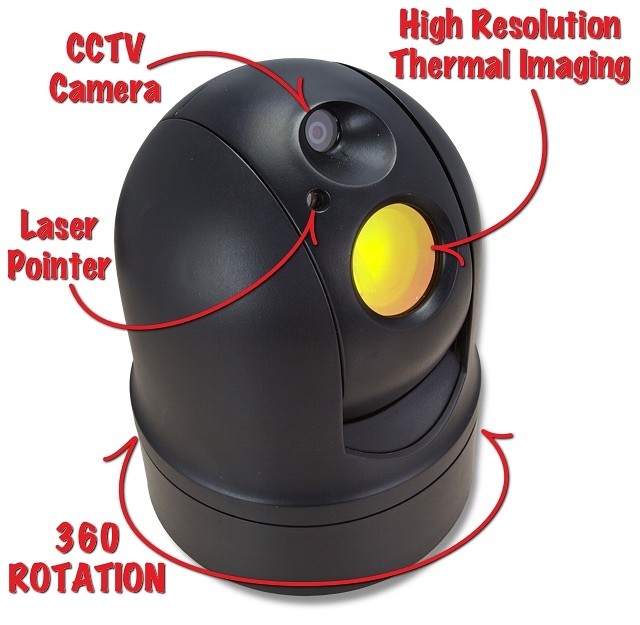 MOBILE PTZ / THERMAL CAMERA / CCTV VISUAL CAMERA / LASER POINTER / VEHICLE MOUNTED
M1-D-V MOBILE PTZ VEHICLE MOUNTED PTZ FEATURES
High Resolution thermal camera for day and night imaging in any weather conditions while vehicle mounted.
CCTV Visual camera for daytime to low light imaging in a mobile PTZ configuration.
Laser pointer for accurate target identification while operating the system from within the vehicle.
8x zoom of visual CCTV camera module.
8x zoom of thermal camera module.
Focus free operation.
360º continuous rotation lets you track objects no matter which direction they move.
Magnetic base with rare earth neodymium magnets make this a rapid deployment mobile PTZ.
Tri-point thru hull mounting holes for more permanent vehicle mount ptz applications.
Anti-vibration vehicle mount available.
Common protocol for use with almost any joystick / keyboard controller available.
Dedicated controller / screen options available.
All weather operation.
Ultra Compact 4″ size PTZ camera gimbal for covert operation.
Suitable for use as a Car PTZ, HMMWV Tactical PTZ, DVE (Drivers Vision Enhancement) module, Truck PTZ Camera, RV PTZ Camera, Mast Mounted Mobile Command Center PTZ Camera and any other vehicle based application you can think of.

M1-D-V Mobile Vehicle PTZ Camera shown with optional micro joystick controller with built in LCD screen.
The M1-D-V Mobile PTZ Solutions
The M1-D-V is the lightest, smallest vehicle mounted Pan Tilt Zoom (PTZ) system in the world to combine high resolution thermal imaging, visual CCTV camera, laser pointer and 8x dual channel zoom in one easy to install mobile PTZ package. This thing is down right tiny but still packed with performance features.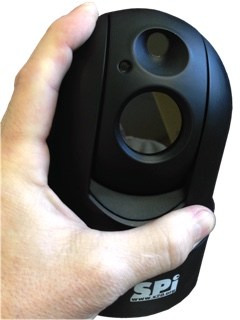 So small it fits in the palm of your hand so you know it will fit anywhere on the vehicle.
The system mounts to any metal surface instantly, thanks to super strong rare earth neodymium base mount magnet design.  Because of its light weight and freakishly strong magnets, this thing really sticks where you put it. Off-road or on road the M1 base magnets hold the system firmly in place.  If you do need a more permanent mounting setup, the system also comes with Tri-Point thru hull attachment points so that the unit can be mounted to your vehicle safely and secured from theft.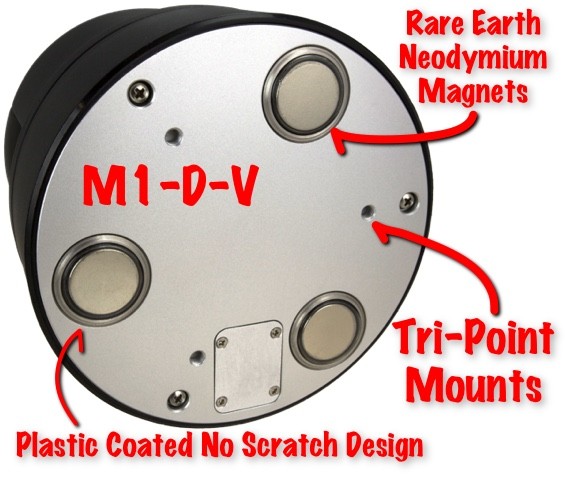 Magnetic mounts and hard mounts for the M1-D-V Mobile PTZ.
Size, weight and super easy mounting options mean nothing if the system does not perform.  Thats the real value of the M1-D-V PTZ Camera.  You are getting a high performance, MIL Grade surveillance instrument that fits in the palm of your hand and costs a fraction of any other system with these features.  The thermal imaging is crisp and detailed. No one can hide from our unique combination of performance grade thermal sensor and image processing power.  Pick out suspects or dangers in any conditions day or night. If you have a little light then the visual camera gives you a detailed full color image of the world around you.  For teams, the laser pointer lets you quickly communicate the location of targets of interest from behind the controls of this vehicle mounted PTZ system. Check out the sample video of some general features of the M1-D-V PTZ camera.
Thermal imaging really cannot be underestimated.  If you dont have experience using thermal cameras then you just dont know what you are missing.  The ability to see heat differences, in crisp detailed video, no matter if its broad daylight or the darkest of nights, is truly a game changer. Take a look at some thermal images to give you an idea of what thermal imaging is all about.  Get your imagination going and think about what this can do for you and your projects.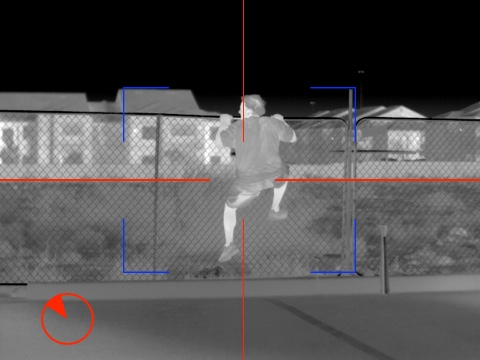 Fence jumper caught in mobile ptz thermal camera patrol.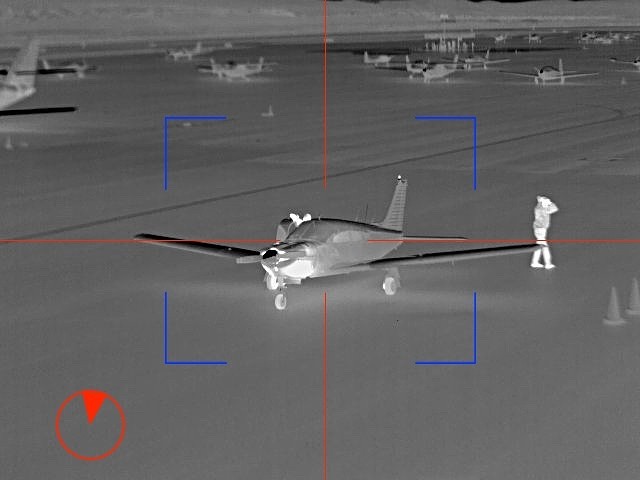 Thermal image of small airplane and humans from airport security.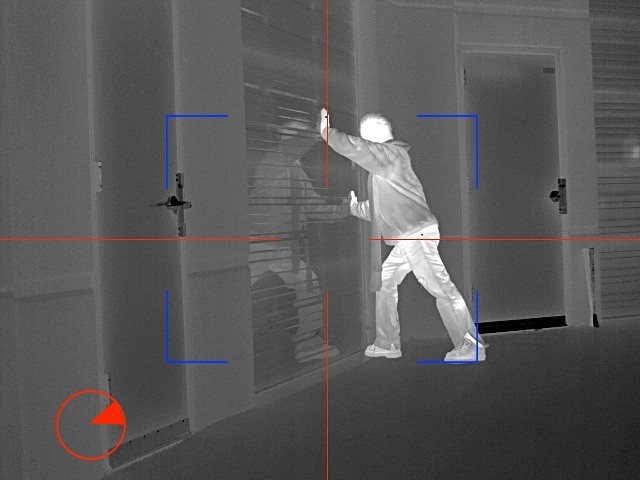 Intruder captured with thermal vehicle patrol PTZ camera.
Amazing right? The M1-D-V mobile ptz vehicle camera is not just for security use.  This system is ideal for tracking, search and rescue and any other need to see the world outside your vehicle, 360º around you, day or night. This little guy is the rugged vehicle ptz you have been searching for. The M1-D-V is so rugged that we even have people using it for Marine environments! You know if it stands up to the harsh world of marine electronics, then it will do the job on any vehicle. Check out another video of the M1-D-V in action on the water. The part where they are stalking deer is really nice.
Here's another marine video of the Mobile PTZ showing beautiful Lake Tahoe.  Yes you can turn the symbology off on the M1-D-V vehicle mounted PTZ.  Its turned off in this video so it doesn't get in the way of the natural splendor that is Lake Tahoe.  Enjoy.
M1-D-V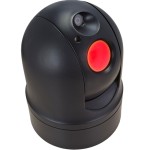 Starlight Imaging Performance
10/10
Daylight Imaging Performance
10/10
Target Identification
10/10
Pros
- Easy Magnetic mounting or hard mounting features
- High Resolution thermal imaging
- 8x zoom on visual and thermal cameras
- Vehicle mounted PTZ
- DVE capability